Practical guide to enjoy your ski Easter Holidays 2023 in Andorra. The 9 best things to do in Easter in Andorra
April in Andorra is synonymous with good weather, sun and good temperatures, but also snow. So here is our proposal for  a ski Easter Holidays in Andorra.
1. Skiing and snowboarding in Grandvalira-Andorra during Easter 2023
Surely you've heard of Grandvalira-Andorra, the largest ski resort in the Pyrenees, with more than 210km of slopes at your feet, with modern, high-capacity ski lifts and high-quality facilities and services.
Whether you are an expert skier or snowboarder, or it's the first time you ski in your life, this is an experience you cannot miss if you come to Andorra in winter or Easter. At Mountain Hostel Tarter we have everything ready and we make it very easy for you. We are also right in front of Grandvalira, in the sector of El Tarter. A stone's throw away.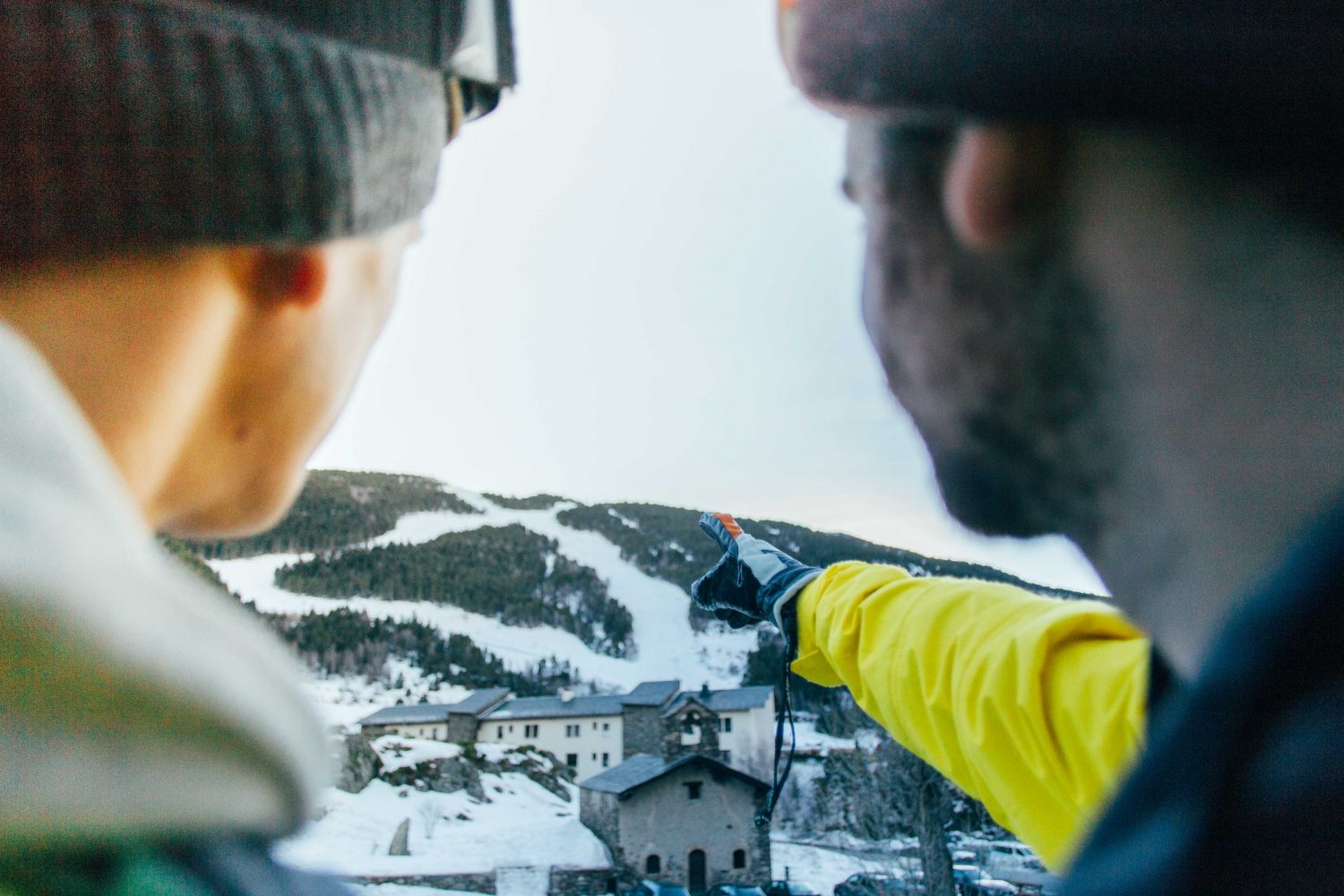 If you are an expert, you can choose any of our ski packages at Grandvalira, which include accommodation and ski pass at Grandvalira, also in Easter. It's our star package: SLEEP & RIDE, which includes accommodation at Mountain Hostel Tarter and Grandvalira ski pass for as many days you want.
If you are new with this matter, don't worry, we will prepare a customized Grandvalira ski pack to make it all very easy and you can enjoy it to the fullest: accommodation at Mountain Hostel Tarter, ski pass at Grandvalira, ski or snowboard lessons with private instructor or group classes, lunch on slopes, ski equipment rental … everything you want, we have it.
We love to ski in Grandvalira…and don't miss your ski Easter Holidays in Andorra.
2. Snowshoeing through the Vall d'Incles in Andorra
It is not the adrenaline, but it's the majesty of the landscape that makes this an unforgettable experience. You do not need to have experience or a great physical form. It is only a walk, but through a splendid, monumental valley, and beautiful in winter. It's a must be.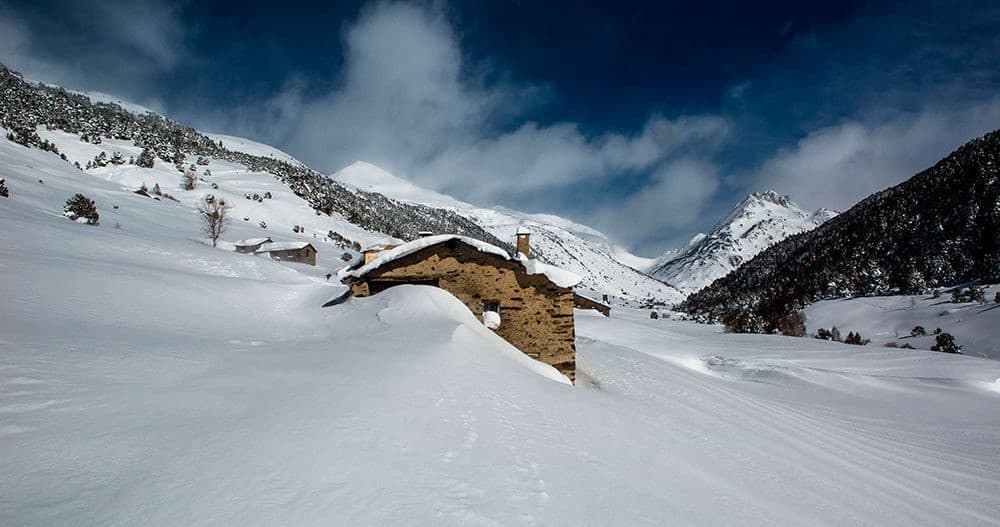 The Incles Valley is a few meters far away from the Mountain Hostel Tarter, very easy access from the hostel. If you want to go your way, you only have to rent snowshoes for € 10 a day. Or if you prefer to sign up for one of our outings, with a guide, you can do it from € 45 per day. + INFO HERE
3. Cross-country skiing or splitboarding in Andorra
If snowshoeing is a small thing for you, and if you have a medium-high level of skiing or snowboarding, then yes or yes you have to try cross-country skiing in Andorra, or go for a walk with the splitboard.
If you do not have much knowledge about snow, types of snow, and the risk of avalanches, or do not know the area, we recommend going out with a guide. And we know the best guides in Andorra. Just tell us and we'll arrange it. To reach the highest peaks of Andorra and to run by virgin faces, is a gem. + INFO HERE
4. "Sa Terrasseta", the best terrace in Andorra
After an exahusting day in the mountains, we recommend you stop by "Sa Terrasseta", the hostel's terrace.
Our food truck serves the best hamburgers in ttown. The best place to get your strength back and have a drink, in the open air, in the middle of the mountain with wonderful views of Grandvalira and the mountains.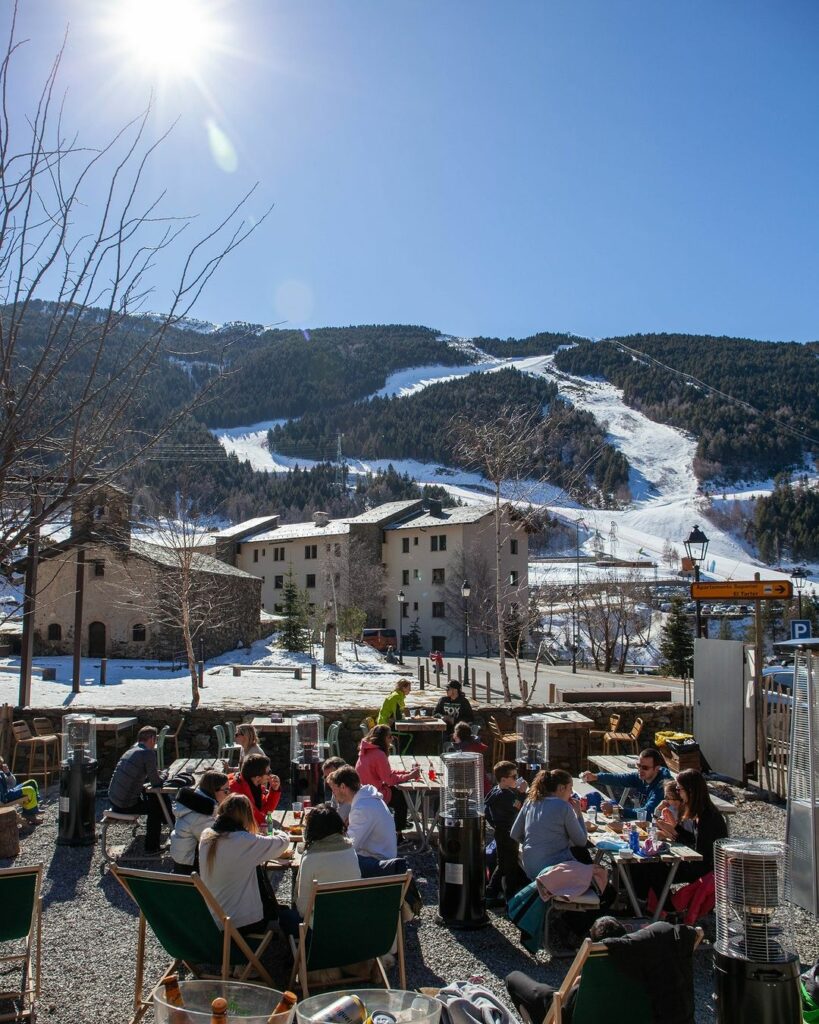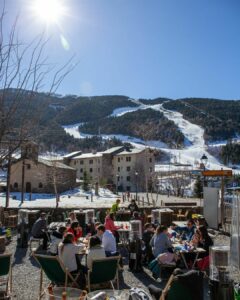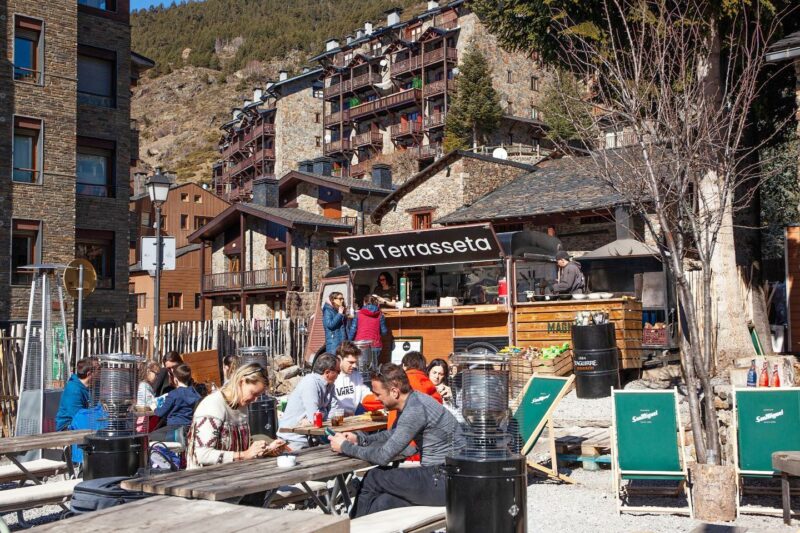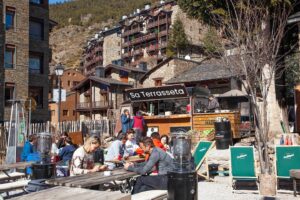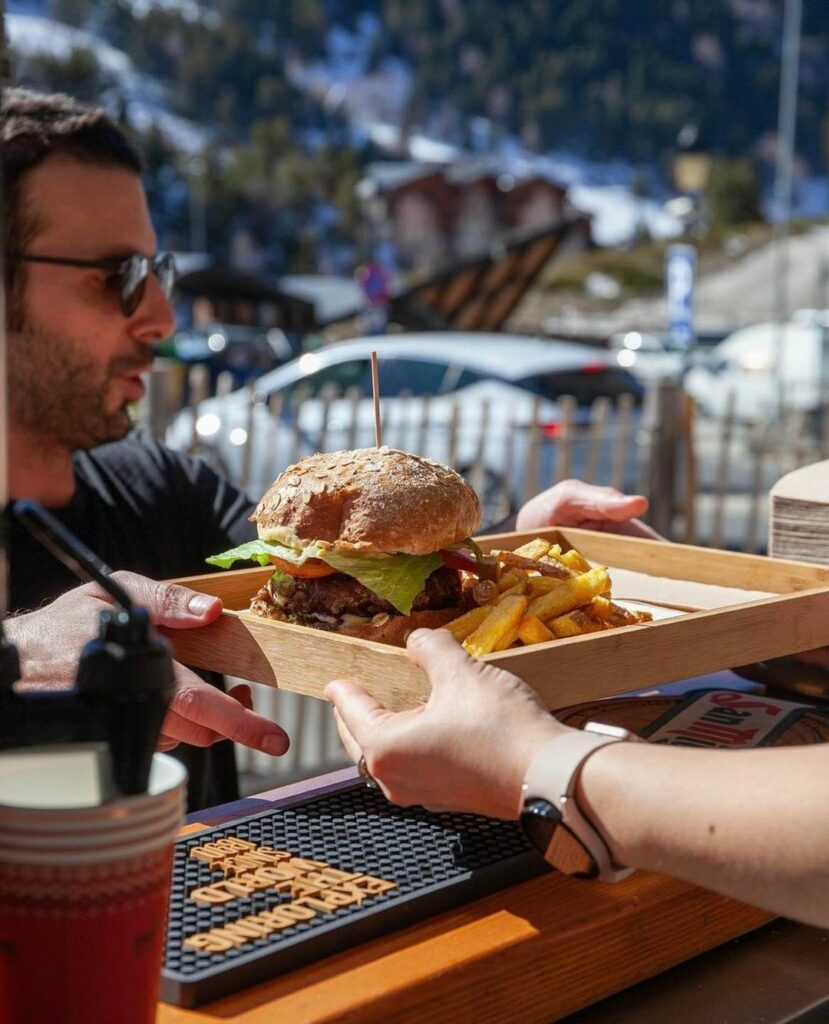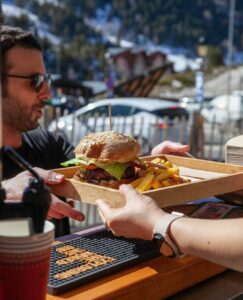 In addition, this Easter 2023, coincides with the "closing" of the winter season in Sa Terrasseta, with some special events and live music. Here is our Insta to keep you updated; Sa Terrasseta
It's an important part of a ski Easter Holidays in Andorra.
5. Whirlpool session in the outdoor hot tub of Mountain Hostel Tarter, with hot water and mountain views.
A picture is worth a thousand words: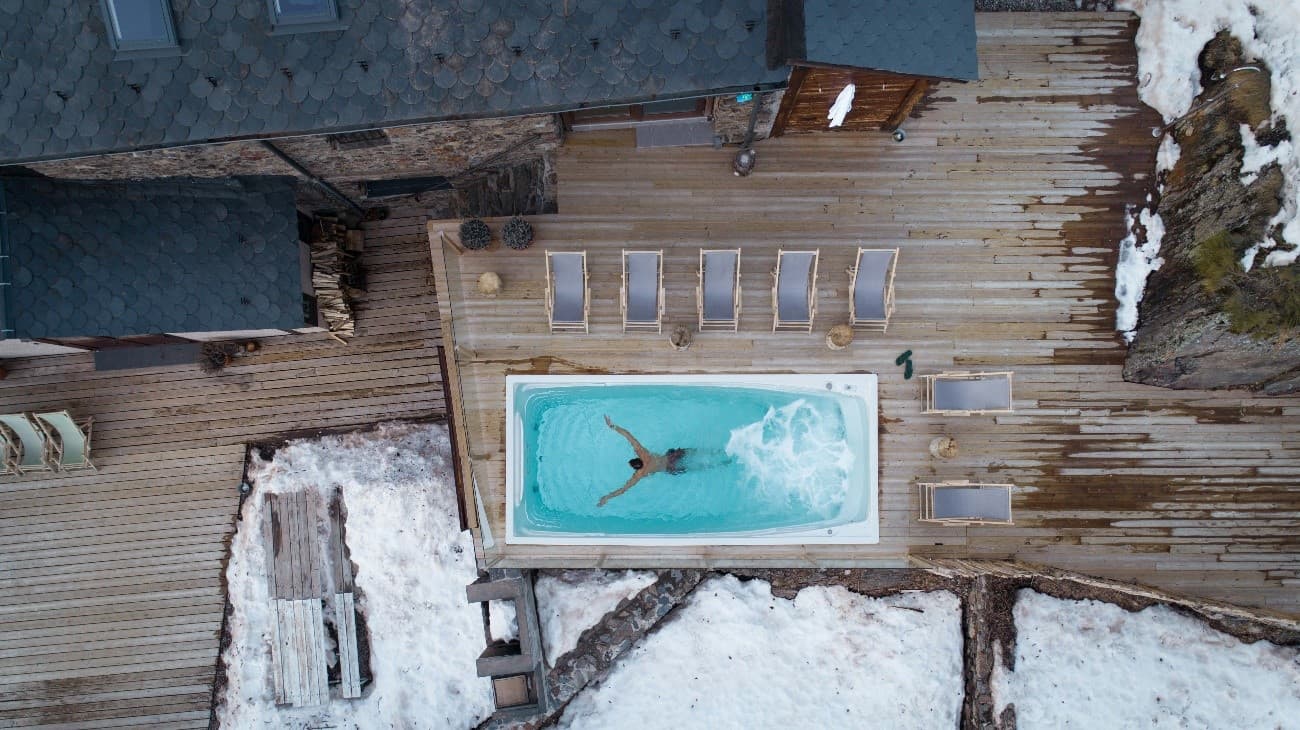 It sounds good, right? Well, it will be better when you explain to your friends that you have taken a whirlpool bath in our outdoor hot tub in the mountains. Yes, as you hear it. At Mountain Hostel Tarter we have an outdoor pool-hot tub, on the upper terrace, with spectacular views of the mountain and the Grandvalira ski slopes. And of course with hot water, to enjoy it even on snowy and cold days. But beware! We warn you: it will be easy to enter, but not to leave, you will want to stay-in there all day …
And the jewel in the crown is the new Finnish sauna with real wood fire. A unique experience.
6. The best après-ski party in Andorra, in L'Abarset
L'Abarset and its large terrace is undoubtedly the best après-ski of Grandvalira and Andorra. Every Saturday, starting at 4pm, the party begins in L'Abarset, on the outdoor terrace, with artists and DJs of international renown throughout the season.
An appointment that cannot be missed. The best way to end a good day on the slopes, and among friends. And this 2 minutes' walk from the Mountain Hostel Tarter …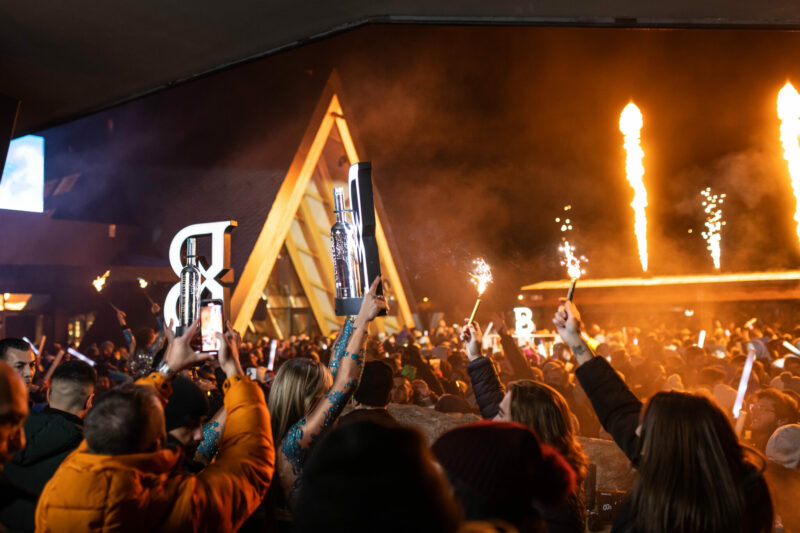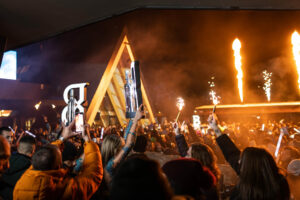 7. Afternoon relaxing in the warmth of the fireplace in the chill area of Mountain Hostel Tarter..
We understand very well if you want avoid parties and shopping. Because as at home, nowhere. And in our chill area, in Mountain Hostel Tarter, with comfortable bean bags and sofas, television, reading, board games,… it is very easy to be enchanted with the fire and the heat of our fireplace that we light every evening during the winter. After an intense day on the mountains, after a swim in our outdoor pool-hot tub and a good hot shower, relax in one of our bean bags, chatting with friends or reading a book, the warmth of the fireplace is more than recommended. It is food for the soul.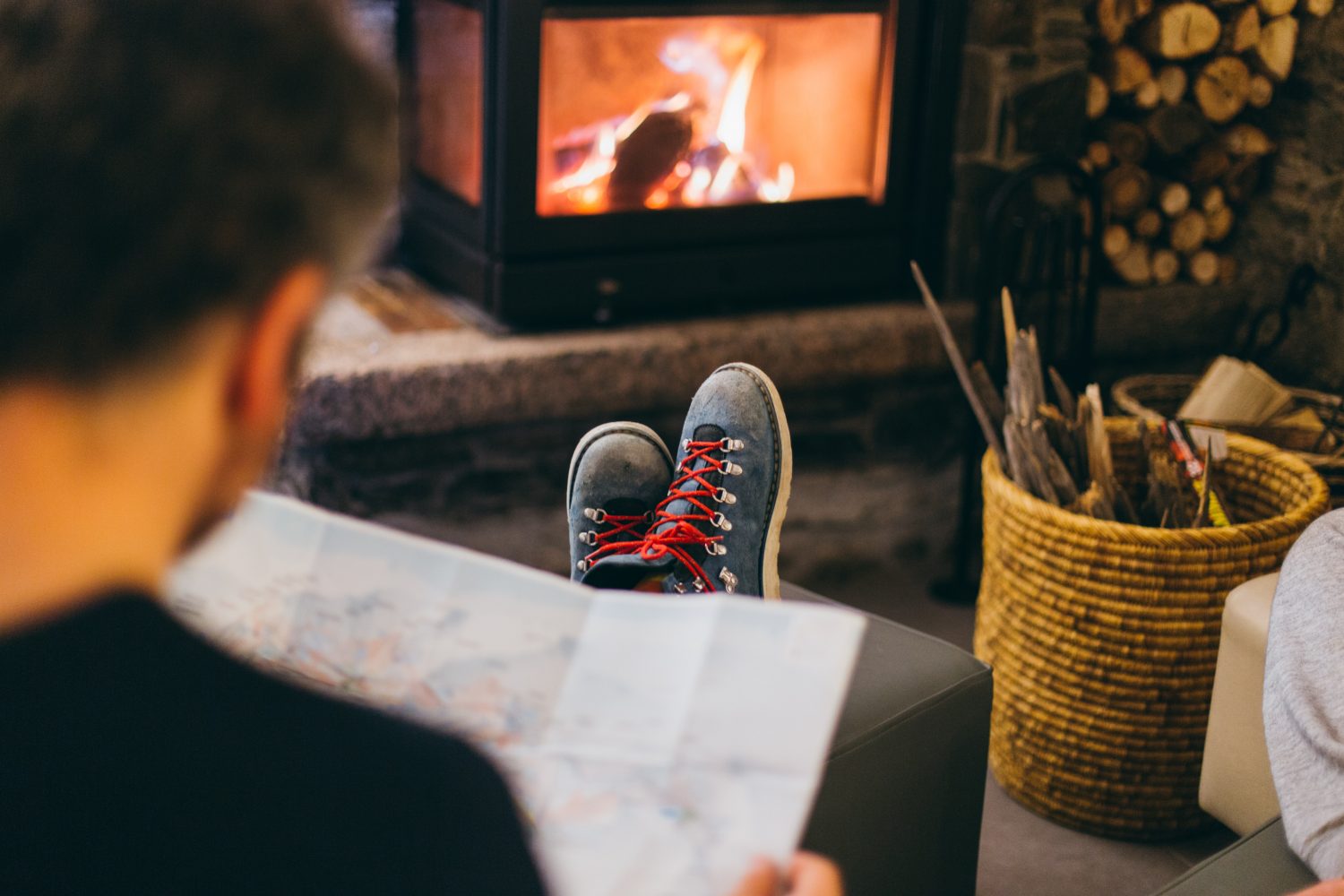 8. An afternoon of shopping in Andorra, and have a drink in the old town of Andorra la Vella
It's the topic! Go to Andorra for shopping. The truth is that it does not hurt to take a walk through the main commercial axis of the country. In a single street, you will find everything: fashion, sports, technology, perfumery, pharmacy … whatever you want, you will surely find it. The best? Take a walk through the old town of Andorra la Vella, with pedestrian alleyways, old houses with stone walls and slate roof, historic buildings, etc … It is a neighborhood where new bars and restaurants are opening with a lot of charm to snack and drink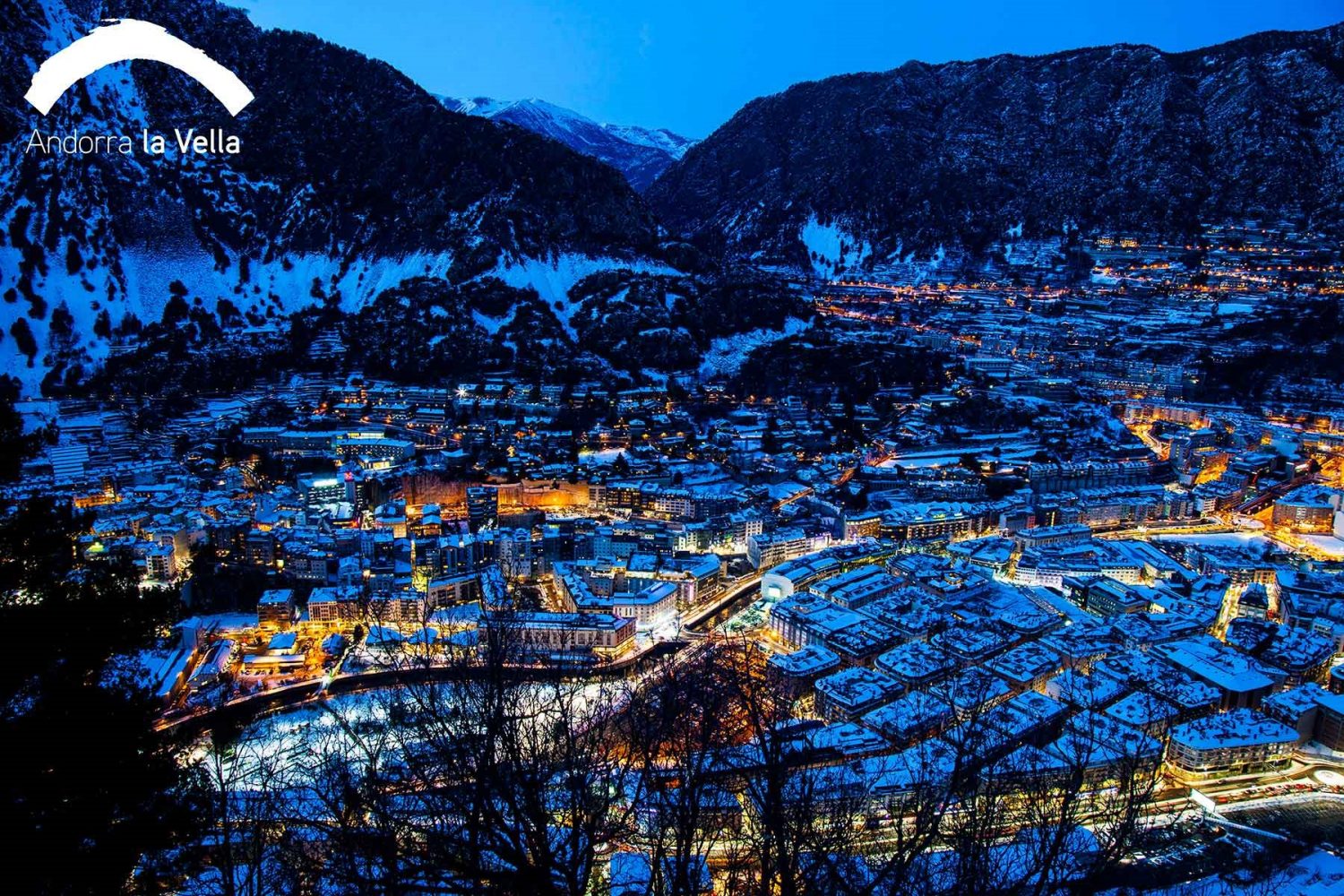 9. Lunch or dinner at NØR RESTAURANT
Our meeting point, both in the evenings for drinks and snacks and for dinner. Next to the Mountain Hostel Tarter. It's our favourite. You can tell, can't you?
The NØR RESTAURANT is a new restaurant in Andorra where they cook with wood and smoke. A restaurant concept that combines innovation and tradition in equal parts, where smoke and fire give a unique identity to all the dishes. All the dishes, including the smoked meats, are homemade, with top quality ingredients and meat from the Pyrenees.
And let's not forget the excellent wine pairing they offer, with carefully selected wines to accompany each dish.
It is an explosion for the senses, where the most important thing is the quality of each dish and enjoying them in good company and with good music! Attention to their playlist!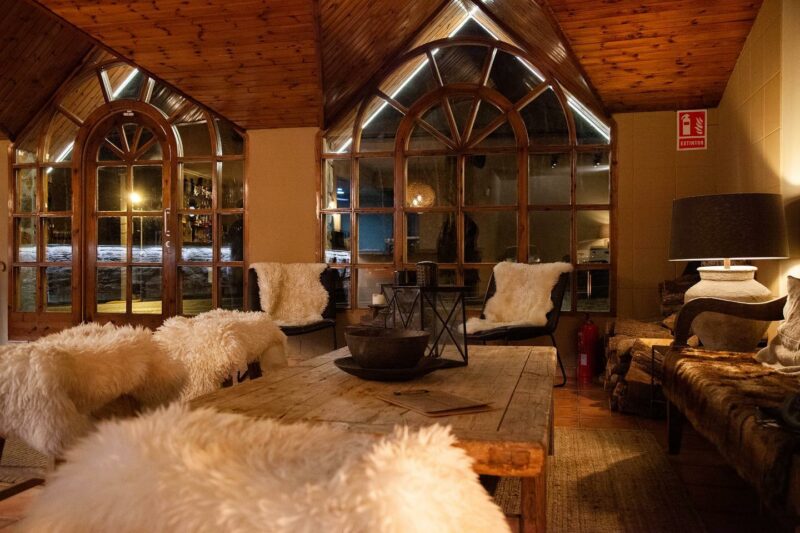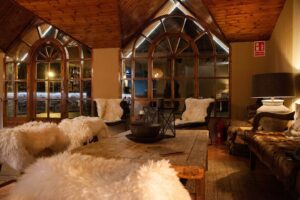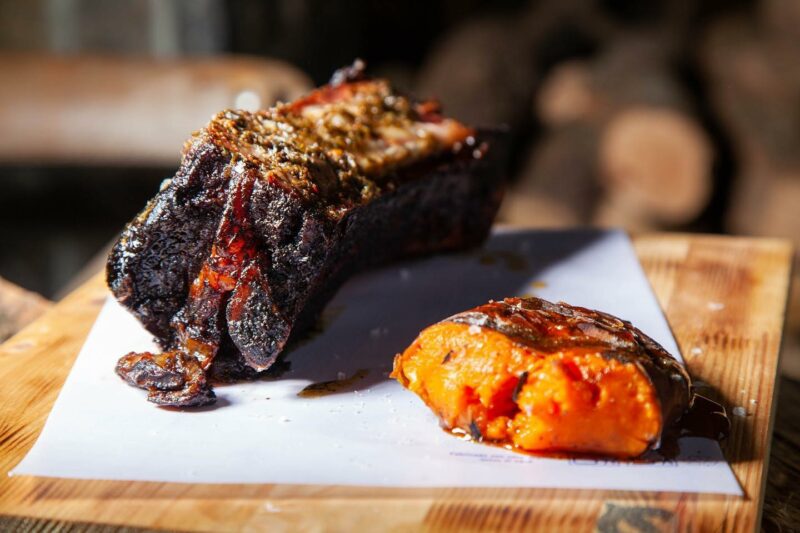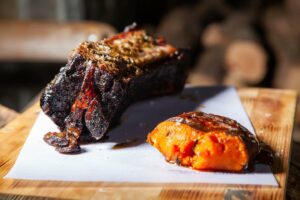 New restaurant NØR RESTAURANT in Andorra, cuisine based on fire and smoke with top quality ingredients and Pyrenean meat.
Here you have their instagram to get you started: NØR RESTAURANT